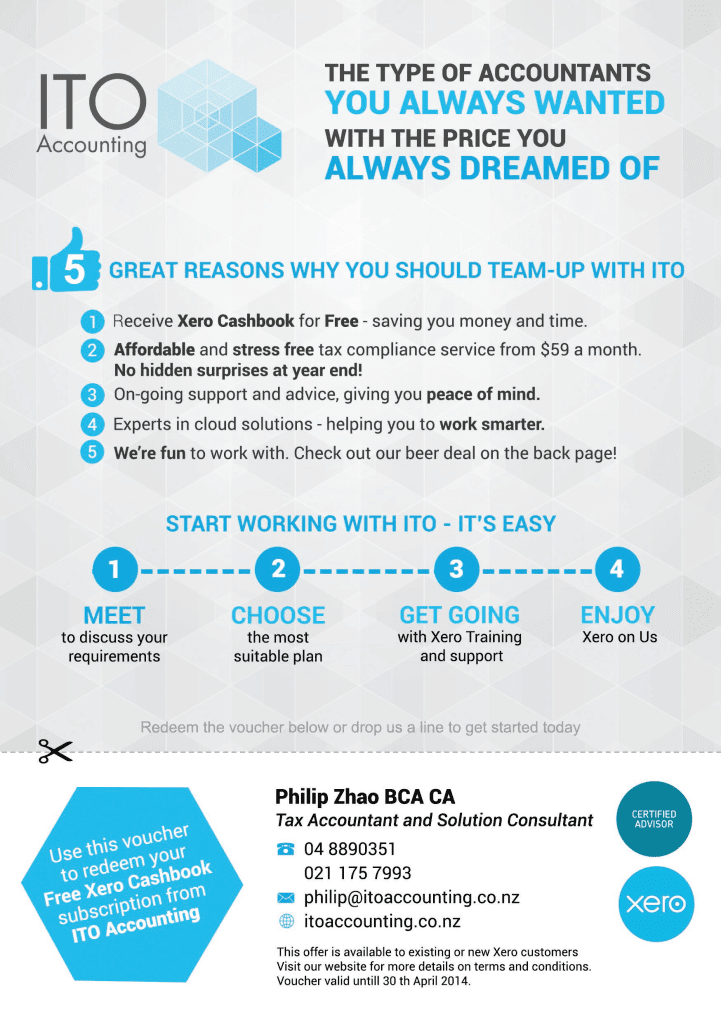 Get Free Xero Cashbook Now
1 – Bank statement lines are
automatically fed

into your Xero account.
2 – It's
so easy to use

– doing business is a pleasure.
3 – You get a
real-time view

of how the business is doing.
4 – Accessibility – use Xero
anywhere

,

anytime

on any device.
5 –
Unlimited collaboration

with your staff and trusted advisors.

[contact-form-7 404 "Not Found"]
Q&A:
What is Xero Cashbook?
Xero Cashbook is a simplified version of Xero, only available through your accountant. It is designed to help you manage your cash and allows your accountant to manage your books – all over the internet. There is no software to install, and it's no hassle to set up. Xero simply allows you to get on with your business and
not have to worry about accounting. Download a detailed brochure on Xero cashbook here
I'm already on Xero; could I still take the advantage of this deal?
Yes, absolutely. We will simply transfer a Xero cashbook credit towards your monthly package.
What does the tax compliance service include?
Firstly it involves registration onto our tax agency listing, so you get the extension on tax filing and payment deadlines (up to 6 months). Then follow our tax planning process to ensure you have the most efficient tax structure, so you only pay what you should. We will send out reminders/updates throughout the year to ensure you stay on top of your tax payments. Lastly we file everything to the IRD for you and correspond with the IRD on your behalf with any queries.
Do you charge for on-going support?
No, there is NO additional charge for on-going support. You can relax knowing that we have got your back without the huge price tag.
What are Cloud solutions?
Business applications are moving to the cloud, giving you greater access to your information and helping you work quicker, easier and smarter. This is not just a fad—this shift from traditional software models to the Internet has steadily gained momentum over the last 10 years. Looking ahead, the next decade of cloud computing promises new ways to collaborate everywhere through mobile devices. What does this mean for you? Well get on board or get left behind. Talk to our ITO team today and see what the right solution is for you to help you work smarter.
How can I place an order for the Beer Deal?